Publications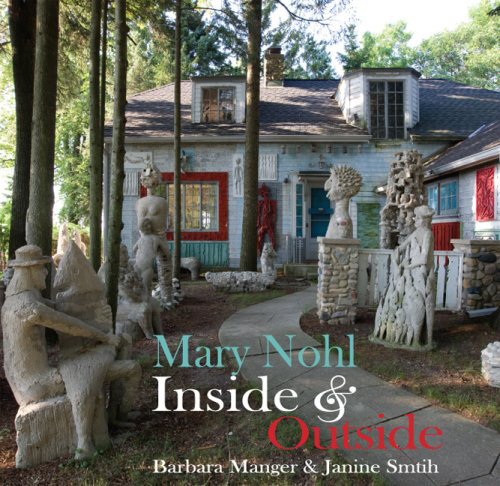 Mary Nohl: Inside & Outside
by Barbara Manger (Author), Janine Smith (Designer)
Paperback - March 22, 2009
Purchase at the University of Wisconsin Press
Outsider artist, sophisticated naif, and witch are all labels that have described Mary Nohl (1914-2001), creator of a magical and mysterious site on the shore of Lake Michigan near Milwaukee, Wisconsin. Here she constructed huge concrete heads, stone-encrusted creatures, and imposing driftwood figures to fill the yard surrounding a modest cottage where she spent most of her life. Carved heads hang from the eaves, wind chimes tinkle in the trees, and pebbles at her doorstep spell "Boo." The cottage is painted and embellished inside and out with wooden fish, boats, animals, and leaping figures. Wire, hemp, chicken bones, egg shells, aluminum pans, broken glass-almost any castoff materials available-were used by Nohl to create her art and ornament her surroundings.
Mary Nohl: Inside & Outside offers the first comprehensive look into the unusual life of a remarkable artist whose surroundings stand as a monument to her creative personality. Establishing Nohl as a notable "outsider" artist, Barbara Manger and Janine Smith offer an inside look at an artist whose idiosyncratic art-pieces whose allure is only heightened by the intrigue and legends surrounding their creator-attracted generations of visitors who peered through the fence at Nohl's wildly decorated yard but rarely caught a glimpse of the elusive artist.
"This sensitive, meticulously researched book sheds needed light on the life and work of an underappreciated visionary. It should advance the cause of preserving Mary Nohl's fragile work in all of its fevered complexity."
~ Whitney Gould, former architecture critic and urban landscape writer, Milwaukee Journal Sentinel
Mary Nohl: A Lifetime in Art
(Badger Biographies Series)
by Barbara Manger (Author), Janine Smith (Author)
Paperback - February 25, 2013
Purchase at the Wisconsin Historical Society Press
LOOK INSIDE THE LIFE - AND HOME - OF LEGENDARY 'OUTSIDER' ARTIST MARY NOHL
"Mary Nohl: A Lifetime in Art" by Barbara Manger and Janine Smith, tells the story of Milwaukee-born artist, Mary Nohl. A prolific and fanciful maker who worked in a variety of media, Nohl was both a mysterious figure and an iconic "outsider" artist. This new addition to the Badger Biographies series captures her life and will capture the imagination of readers, and artists, of all ages.
Nohl didn't just make art - she lived it. From the time she was young, Mary enjoyed making things, from the model airplane that won her a citywide prize to assignments in shop class, where she learned to work with tools.
Her interests in art blossomed during the years she spent training at the Art Institute of Chicago, leading to a lifetime of curiosity and ventures into new artistic media. From pottery to silver jewelry and oil painting to concrete sculpture, Mary explored new ways of making art. Many of her pieces were made from found objects that other people might think of as junk - like chicken bones, bedsprings and sand that she made into concrete.
Nohl, who made her home on the shores of Lake Michigan, decorated the interior of her cottage with bright colors and eye-catching figures in driftwood and glass. During her later years, her home became known as the "Witch's House" - a place of local legend known far beyond Fox Point. Though she died in 2001, Mary's legacy continues. Her art is held at the John Michael Kohler Arts Center in Sheboygan, and her home is listed on the National Register of Historic Places.
The popular Badger Biographies series for young readers explores the lives of famous and not-so-famous figures in Wisconsin history. The Wisconsin Historical Society Press is proud to celebrate the release of this, the 21st book in the series.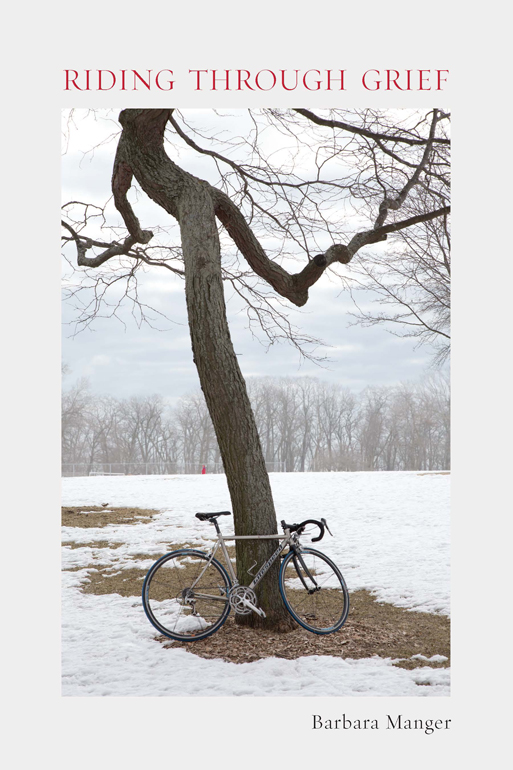 RIDING THROUGH GRIEF
by Barbara Manger (Author)
Paperback - Point Comfort Press, 2013
Ridingthroughgrief.com
Riding Through Grief is the story of how a family faced head-on the sudden, accidental death of their son, and created unique ways to honor his memory that also helped them deal with their loss. Barbara's inspiring story gives hope to those facing the unexpected death of a loved one.
"Riding Through Grief offers hope and helpful insight to others trying to find their way through the loss of a loved one. It will be a valuable resource for family members and friends who accompany these individuals on their journeys, as well as for mental health and other health care professionals seeking more effective ways to help people experiencing such a loss."
~ From the Foreword by Julia Hinkle Penn, MD